Fish Alert
Seaway Fish Alert 8
An important change to the seaway this week.
Seaway Conditions Update
An important change in the seaway this week,
Right on time schools of Frogmouth and Blue Pilchards have begun to make thier way into the Seaway and Broadwater, at the moment there are only a few but the numbers should increase over the next few weeks, particularly if we get a strong wind event.  Predators are beginning to gather but as the schools of frogmouths are still in small numbers the bulk of the big fish haven't shown up yet.  In one day fishing this week I have managed GT's, Bigeyes, Tarpon, Tailor, Jewies(on minnows!) and Hairtail.  Surface feeding is starting up again, I have seen a few bustups by GT's in the canyon(late afternoon bottom of the runout), Tarpon feeding on surface at night near The Sign and Bigeyes around north wavebreak wall.  You can expect this to increase as the numbers of baitfish do.  Tern's are on the ball and are locating the schools of baitfish as they come through the northern channel so keep an eye on the birds incase the fish decide to pickup an easy feed.
Make sure you have your twisties, poppers and minnows ready to go.  Once the baitfish numbers reach critical mass the seaway should be on fire.
Fish Alert 7 Wednesday 14th August 2013
Some great fishing available right now, all you need to know is where, when and how. 
GT's are hungry and feeding in the canyon and the northern Y again.  During the runout tide in the afternoon, they go into feeding mode from 4pm until sunset.  If there is bait around they will feed on surface(still very hit and miss), if not any deep diving lure that runs to 3 metres plus should get hit, I used Bolt Omega's, Rapala XRD10's and Sebile Koolie Minnows.  Troll around the area from the canyon half the way to the first set of beacons north and down through the northern Y and you should get hit.  Trolling against the current works best and a troll speed around 5 knots seems to stir them up.  I had an epic 2 hour session on Tuesday afternoon that lasted 2 hours nonstop.  Lost count of the GT's landed. From 4pm til 6pm I was almost constantly hooked up, I would hookup, fight a fish, release it throw the lure out troll about 10m and get smashed again! Lost count of the fish landed. all around the 50-65cm mark though I did get busted off twice by bigger fish. Only one other boat out and all they had was plastics.. They got zip and had to put up with me constantly landing GT's for 2 hours straight, almost feel sorry for them.. almost..  A classic example of why you should not rely on one technique to get fish. I went out on wednesday afternoon to confirm it would continue and while it was not quite as frenetic we still managed to boat 5 GT's and lose a couple of others.
Bolt Omega's will soon be available through the SeawayFishing Shop.
A word of warning though, snot weed is coming through the seaway from the broadwater on the run out tides in increasing amounts as it does every year when temperatures begin to warm up.   This is making trolling a bit difficult so make sure you check those lures frequently. The eastern side is not as affected so concentrate there if it causes you problems.  We will have  to put up with this weed for the next 4 weeks.  The weed usually clears about an hour after the start of the run in.
Fish Alert Friday 24th May
Another fish alert for you, this time a sportfish rarely seen in daylight in the seaway is feeding during the day so if you have never caught one before this is your chance.
Tarpon are feeding in the seaway on surface during the day around the last two hours of the run out and can be hooked on slugs or plastics. You won't land too many on slugs though as they will toss it most times. Plastics work fine, I caught them on ecogear Grass Minnow M CCM colour and Berkley Powerbaits in Cas Clear colour but any baitfish profile plastic should work. The key to catching these fish is to cast your lure into the bustup and let it sink to the bottom then wind it back slow. They will either pick it up on the drop or on the slow retrieve back. Remember these aren't GT's so keep that retrieve SLOW.




They are feeding in the area between the north wavebreak yellow and the Wavebreak East Cardinal Mark along the dirty water line so keep an eye on this area.  Look for bustups with about 5 -10 fish. They may move around a bit so keep an eye on the dirty water line and if they go down cast across the line, let it sink then do a slow retrieve back to the boat. If they start tapping the plastic, slow it right down until you feel the weight of the fish then strike hard and hope the hook stays in. There are some big ones in there, I hooked a couple that would have been in the mid to high 60's.
Remember that Tarpon should be considered a catch and release species, they are full of bones, apparently taste terrible and smell even worse, so let them go for another day.
Fish Alert Wednesday 24th April 2013
Another fish alert for you, this ones is for all the lure fisherman who like to use poppers.  A top opportunity to catch some nice fish on surface, there's also some bigger fish around if you can land them. 




There are decent bigeye trevally (45-55cm)smashing bait on the surface in the area from the seaway tower to the green and red beacons west of the pipeline once the sun goes right down(6.30pm), they are doing that until the tide changes to run back out. All you have to do is listen or look for the bustups then get a cast in there quick, blind casting also works in that area. They are very aggressive and will hit a popper repeatedly if they don't hookup. Poppers from 5-10cm all work but the hookup rate is better on the smaller poppers.  Stickbaits and minnows also work. There are some bigger fish in there as well I was busted off by big fish three times the last two nights, despite hooking them on 20lb gear.
Oh and for the few of you who haven't been chasing them, the GT's and kingfish are still around at the top half of the tide near the canyon, the size of the GT's is increasing too, but the kingfish are as uncatchable as ever.
Super Awesome Fish Alert Thursday 4th April 2013
Another fish alert, this one you won't want to miss!! Some seriously awesome opportunties out there right now. I just came back from one of my best ever trips
The southerly winds have pushed massive schools of frogmouth pilchards into the seaway, schools of predators are balling them up and smashing into them.




Highlights -
Big tailor(50cm+) smashing the froggies along the north wall (start of the runout)
Good size bigeyes (avg 55cm) smashing the froggies at the end of the south wall and around the pipeline(bottom and top of the tide)
Mack tuna schools (55-65cm)smashing the froggies over the pipeline(dusk)
Mid size GT's smashing them around north wavebreak.(last hour of the run in)
Big schools of queenies chasing them off the front of the north wall.(during the run in)
That was an afternoon trip, should be the same tomorrow, fish came on the bite around 2.30-3pm and we moved from one spot to the next catching the different species.
Just as a sneak peek, rather than try and catch GT's I spent the time trying to get my camera into the bustups, and the results speak for themselves, what we see on the surface is nothing compared to whats going on underneath..
Fish Alert Thursday 28th March 2013
Another Fish Alert for paid members, this one could see you landing some very big fish if you are there at the right time. Ideal for someone going fishing over the easter break. On with the alert..
There are schools of big yellowtail Kingfish feeding just off the yellow x beacon of the north wavebreak wall on the morning run in tide. They start feeding just after sunup and finish around 7.30am, that may get later as the tide gets later each day. I'm pretty sure there are schools of GT's in there as well. They are chasing white pilchards around 5cm long. You may say, thats all very well.. but are they catchable????? Well you tell me..
That fish went 90cm. Three were hooked this morning, but only this one landed.  Dad hooked another one but the hooks pulled shortly after and Young Jett hooked one on 6lb but got busted off.  Both of our fish were hooked on 15gram white gillies baitfish.  Report plus video later.
Fish Alert Thursday 21st March
Another fish alert for you, this one is important. The 2 is just a way of keeping it separate from the other one... Now on with the alert...




Yes, its what we have all been waiting for, the GT's have arrived. I got 3 out of massive surface feeding schools (50+ fish) on wednesday at around 1pm. All schools were feeding between the north wall of wavebreak and about 100m north of the dredge. Bait schools are holding in this area. Size was around the mid 50's. Now before you get too excited, they didn't show today but at least they are around. My brain is fried right now after nearly 30 hours of straight fishing, but I wanted to get this up quick. Full report plus video will come later
Teaser shot..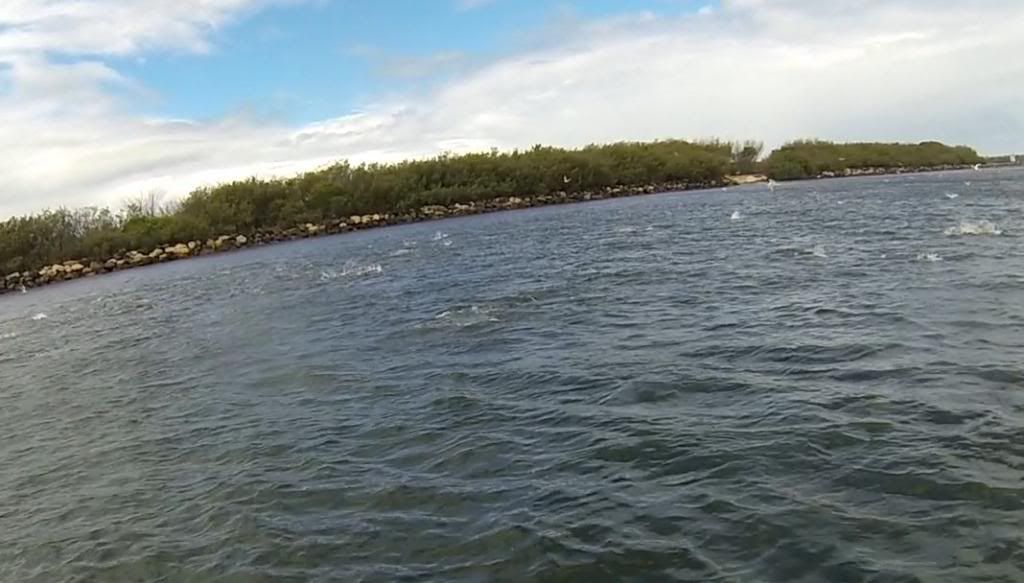 Fish Alert Sunday 17th March
Welcome to the first SeawayFishing Fish Alert.  These will be posted whenever opportunities for good fishing are found and are likely to be repeated(though I make no guarantee they will be there the next day).  Details such as location, time of tide, species, action and lures will be posted. On with the alert...




Species: Tailor and Kingfish
Location: 100m south of the Cross channels south of crab, east of the main channel.
Activity: Surface feeding by schools of tailor with big yellowtail kingfish hunting them.
Time of tide: Halfway through the run in tide, just in front of the dirty water line.
Notes: Plenty of baitfish in the area.
Lures used: 15 gram gillies baitfish.
Summary, Despite heavy boating traffic, schools of tailor feeding on schools of small (2cm)white pilchards, which in turn are being hunted by large yellowtail kingfish around a metre long. We landed a number of tailor from 30-40cm and had one followed by a large kingfish which chased the tailor around the boat for a couple of minutes until the tailor managed to free itself and hide under the boat. We also saw kingfish hunting tailor schools 50m away from the boat. Action lasted about an hour. If you hooked a tailor and kept one as a livey(35cm +) then threw it out when the kingfish started chasing the tailor schools, you would be in a good chance at hooking a big kingfish.
The seaway has cleaned up alot, weed has gone and water has improved alot from thursday. Still alot of dart around the end of the north wall.